Welcome To High Trees Garden Centre
Established in 1982, we are a traditional nursery and garden centre specialising in a huge range of home grown herbacious, alpine, herbs, and bedding plants.
Aquatic
VISIT OUR AQUATIC AREA WHERE YOU WILL FIND A NICE SELECTION OF AQUATIC PLANTS AND OXYGENATOR'S.
Come and see our fabulous plant range
Subscribe to our newsletter
We will send our exclusive e-mail vouchers to you normally every two weeks, so keep an eye out and remember to check your e-mails on a regular basis, otherwise you'll be missing out on the chance to save money on some of your favourite garden centre products. You will also receive information about events and news related to the garden centre.
Signing up means you accept our terms & privacy notice.
PLANT OF THE WEEK: SNOWDROPS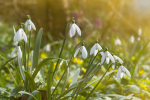 The sight of brave little snowdrops pushing their way through the frostiest ground gives every gardener new hope. Once the first porcelain petals have opened you know winter aconites and crocuses aren't far behind: before you know it every inch of soil is bursting with dainty colour and the gardening year has begun.
Give snowdrops dappled shade in soil enriched with compost or even better, leafmould – autumn leaves rotted down for a year or two to mimic the woodland floor snowdrops love. Snowdrops make beautiful partners for winter shrubs like dogwoods and witch hazels, and other spring flowers including hellebores, winter-flowering aconites and Cyclamen coum.