Welcome To High Trees Garden Centre
Established in 1982, we are a traditional nursery and garden centre specialising in a huge range of home grown herbacious, alpine, herbs, and bedding plants.
Aquatic
VISIT OUR AQUATIC AREA WHERE YOU WILL FIND A NICE SELECTION OF AQUATIC PLANTS AND OXYGENATOR'S.
Come and see our fabulous plant range
Subscribe to our newsletter
We will send our exclusive e-mail vouchers to you normally every two weeks, so keep an eye out and remember to check your e-mails on a regular basis, otherwise you'll be missing out on the chance to save money on some of your favourite garden centre products. You will also receive information about events and news related to the garden centre.
Signing up means you accept our terms & privacy notice.
Plant of the Week: Roses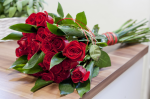 'A rose by any other name would smell as sweet', said the Bard, and whatever name they go by roses undeniably take the prize for the most delicious scent in the garden. Perfume adds yet another dimension to a flower already blessed with perfect petals in a kaleidoscope of romantic colours.
Since it's prime rose-planting time right now you've got the perfect excuse to add to your collection. From palest pink climber 'Madame Alfred Carriere' to swoon-inducing Bourbon rose 'Madame Isaac Pereire', there are dozens of roses which major on scent – so fill your garden with sweet, spicy perfume this summer!