Welcome To High Trees Garden Centre
Established in 1982, we are a traditional nursery and garden centre specialising in a huge range of home grown herbacious, alpine, herbs, and bedding plants.
Thursday Night Dining At Bistro Le Jardin
Thursday Night Dining At Bistro Le Jardin commences again on Thursday 6th April. 7pm till 11pm
To book a table please ring 0113 258 7788 Ext 1
Aquatic
VISIT OUR AQUATIC AREA WHERE YOU WILL FIND A NICE SELECTION OF AQUATIC PLANTS AND OXYGENATOR'S.
Come and see our fabulous plant range
Subscribe to our newsletter
We will send our exclusive e-mail vouchers to you normally every two weeks, so keep an eye out and remember to check your e-mails on a regular basis, otherwise you'll be missing out on the chance to save money on some of your favourite garden centre products. You will also receive information about events and news related to the garden centre.
Signing up means you accept our terms & privacy notice.
PLANT OF THE WEEK: RHODODENDRON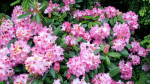 The shadiest corner of your garden becomes the highlight of your spring display when you plant a rhododendron – probably the most brilliantly-coloured of all the early-flowering shrubs with masses of sumptuous blooms in every hue from deepest scarlet to magenta pink.
All varieties of rhododendron like a moist, acidic soil and dappled shade, where they'll make a sizeable and very showy shrub in time. If space is limited, or you garden on neutral or chalky soil, don't worry: you can still enjoy rhodies. Just choose a compact variety bred to thrive in containers filled with ericaceous (acidic) compost for an equally spectacular display each spring.